One source, everything seafood.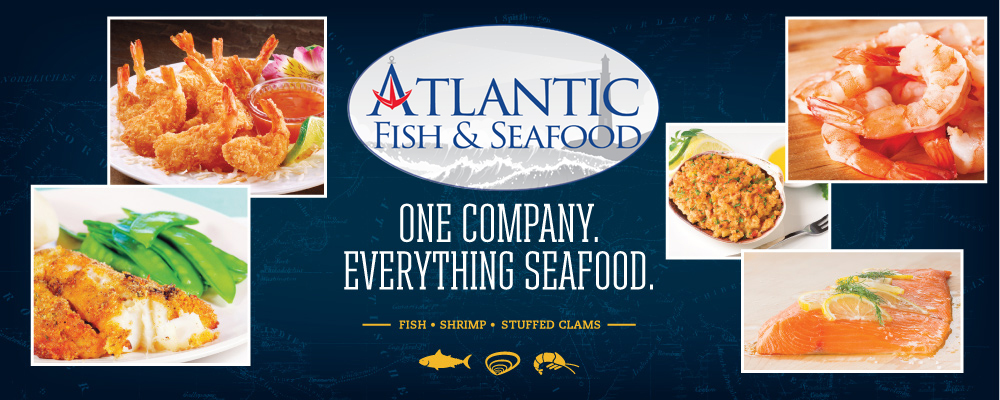 Going above and beyond to support our food service customers.
Partnership
You Have Expectations About Seafood Companies. We're Here to Change Them.
At Atlantic Fish, we source seafood from all over the world and deliver it across the country. However, this doesn't even begin to describe what, on a daily basis, we really do for our food service customers. From inception to consumption, there is simply no aspect to the seafood side of your business that we can't add value to. 
If you need to ensure product availability of multiple items to hundreds of outlets across the country, we'll take care of it. If you need to bring efficiency and reliability to your sourcing, we can do it.If you need filets trimmed to special cuts in specific sizes, no problem. If you need to update your seafood offerings to support customer interest in new trends and flavor profiles, we've got it. If you need customized products, we can make anything you can imagine. Or we'll come up with it for you. If you need a protein portion that meets a certain price point, we're on it. If need to demonstrate to customers your seafood is sourced according to international sustainability and traceability standards, no problem.
We don't want to just sell you seafood. We're determined to become your seafood business partner. That's an ambitious statement to make. On the other hand, we have the resources, experience, expertise and passion to back it up.
Products
From raw, frozen products to value-added prepared foods, we have the seafood your customers will love.
Stuffed
Nobody does value-add and prepared seafood like we do. Our original New England stuffed clams are the #1 seafood appetizer in the country. Our breaded fish filets come in a variety of today's most popular flavor trends. And when it comes to popcorn shrimp, let's just say we've got it covered.
We can customize portions, we can customize recipes and we can develop new products according to your exact specifications. If you only want product processed in the United States, we can guarantee that, too.
Hot Foods
Natural Fish
You can count on Atlantic Fish to be your large volume, single source supplier of multiple varieties – including today's most popular eating fish.
These include:
Cod
Salmon
Tilapia
Haddock
Flounder
Pollock
Whiting
Value Added Fish
Shrimp
Sourced from established farms from around the globe, and processed and bagged within hours of harvesting, all of our shrimp is responsibly grown and handled according to Best Aquaculture Practices established by the GAA. In fact, we are pleased to announce that 100% of our shrimp will be 3-star certified by the end of 2015.
Due to our large network of farms, we can supply high volume orders according to your needs and specifications. With the exception of the block frozen shrimp, most varieties are packed in 1, 2 or 5 pounds bags.
Shell on block frozen
Shell on IQF
EZ-Peel
Peeled: tail on
Peeled: tail off
Cooked: tail on
Cooked: tail off
Industries
The Food Service Industry Segments We Serve:
The Food Service Industry Segments We Serve:
National chain accounts
Broad line distributors
Institutional: Colleges, universities, hospitals
Hospitality & Entertainment
Ingredient providers           
Research & Development
Our own R & D division.
We're not just suppliers of raw seafood.  We have a significant line of prepared frozen products, too.  And we're constantly developing new recipes so that we can help you keep your seafood offerings fresh and make it easy to evolve your menu along with emerging taste trends.  If you have a specific flavor profile you want us to match or if you want to join us in our test kitchen, we invite you to visit our Research & Development division in Gloucester.  
Sourcing
When you source directly, quality goes up but the prices don't.
Quality, quantity and reliability are all controlled at the source.  And unlike many of our competitors, we are the source.  By ordering directly from us, you'll realize a price advantage because there are no middlemen marking up high volume orders at every turn.   No matter how much you order, the type of species we supply you or if you need customized products, you will never have to question the price.  
Production Facilities
An international network of production facilities.
Atlantic Fish maintains our own processing facilities here in the United States:  we operate an SQF Level 3 plant at our headquarters in Gloucester, Massachusetts which is also BAP, MSC and ASC certified.
Along with capacity, we offer flexibility. We can provide special sizes and cuts on different species. And we'll process and package any of our prepared, breaded products according to your specific needs, too. 
Logistics
Strategic cold chain storage and transport.
Our ability to deliver large volume orders depends not only on sourcing and processing capacity but just as important, our partner network of cold storage facilities.  Strategically located from coast-to-coast to allow for expedient delivery to the major food service distributors, they are large enough to store substantial quantities of products. 
Sustainability & Traceability
Distribution
Established relationships with the top distributors.
We understand how the food service business works and have strong relationships with all the top food service distributors and logistics providers. These major industry players know us, trust us and already count on us for sourcing vast quantities of multiple items.  This makes life easier for both our existing and new food service customers.  Just give us the order, we'll go back to the distributor and get it done. 
Contact Us
Just taking and filling orders may be the norm for other seafood companies. But we're not like any other seafood company. Our goal from the very beginning of every relationship is to bring a thoughtful and deliberate approach to the customer's business.
Phone: 978.282.7880
Toll Free: 800.229.1750
Fax: 978.282.7882
Atlantic Fish & Seafood, Inc.
159 East Main St.
Gloucester, MA 01930
How Can We Help?